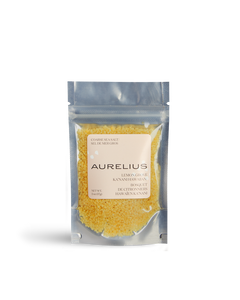 Bursting with the fresh taste of organically-grown lemons, this infused sea salt has eye-catching colour, vibrant personality and a delicious flavor.  This authentic Hawaiian sea salt is harvested from the pristine ocean waters surrounding the island of Molokai and blended with only the finest ingredients, resulting in exquisite taste and an unmatched mineral content.
Uses:  Natural companion to seafood; use to salt lobster, crab legs and shrimp.  Try in pastry baking, on rims of mixed cocktails, and sprinkled on chocolates or carmels
Ingredients:  Unrefined sea salt, organically-grown lemon and lemon extracts, natural colour and flavour.
Lemon Roasted Fingerling Potatoes

Zest from 1 lemon
2 tsp Lemon Grove Ka'nani Hawaiian Sea Salt
1 tbsp fresh dill, chopped
2 tbsp California Blend Extra Virgin Olive Oil
1 lb golden fingerling potatoes, halved lengthwise
½ tsp freshly ground black pepper
Preheat the oven to 425°.  Combine lemon zest, Lemon Grove Sea Salt and dill in a small bowl.  Arrange potatoes on a large baking sheet, drizzle on the extra virgin olive oil and a sprinkle of the black pepper.  Roast for 20 minutes, then remove from oven and toss with the lemon & dill salt you mixed up earlier.  Return to oven and continue to roast until potatoes are golden brown.