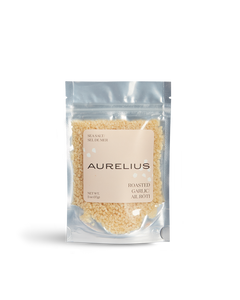 Intensely aromatic and rich, the buttery flavour of roasted garlic blended with unrefined sea salt makes for a mouthwatering savoury treat.  Perfect as both an ingredient salt and finishing salt.

Uses:  Sprinkle on Italian bread with a generous coat of butter and toast in the oven or broiler until golden brown.  Add to soup, gravies, dry rubs and wet marinades or even mixed into hamburger patties.

Ingredients : Unrefined sea salt and garlic.

Herb Crusted Cod

2 lb fresh cod
2 tbsp Early Harvest Extra Virgin Olive Oil
1 egg
1 tsp water
2 tsp fresh thyme, chopped
2 tsp fresh basil, chopped
1½-2 tsp Roasted Garlic Sea Salt
1-2 cuts fine bread crumbs
Cherry tomatoes, halved
Grated Parmesan cheese
Preheat oven to 350°.  Cut fish into 3-4 oz pieces.  Line a baking sheet with parchment paper and set aside.  In a large frying pan, add extra virgin olive oil and heat over medium heat.  In a small bowl, beat egg with a teaspoon of water.  Mix the bread crumbs, Roasted Garlic Sea Salt and chopped herbs on a plate.  Dip the fish in the egg, then coat both sides with the seasoned bread crumbs.  Drop the fish gently into the oil.  Allow to crisp on both sides, then transfer to the baking sheet.  Sprinkle with Parmesan cheese while still hot and top with tomatoes.  Place the sheet in the oven and cook for 10-12 minutes until flaky.  Serve immediately.