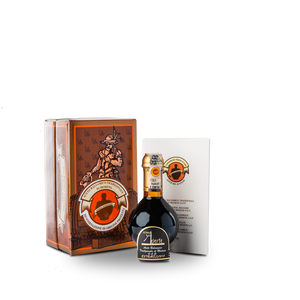 Traditional Balsamic Vinegar of Modena is unique and different from all other vinegar based condiments.  Unlike ordinary vinegar which has its origin in an alcoholic liquid, balsamic vinegar is produced directly from grape juice.  Grapes, harvested from producers own vineyards, are crushed and their liquid - "must" - is boiled in an open vat over fire.  This liquid is then placed in high quality wooden barrels in which through an oxidation process, it is transformed into vinegar.  The barrels are kept in a vinegar loft - acataia - where over a number of years, the precious liquid inside is lovingly cared for through a special technique involving transfers and topping up.
Size: 100 ml.
THE TWO VARIETIES OF TRADITIONAL BALSAMIC VINEGAR OF MODENA P.D.O. (Protected Designation of Origin)
Two types of vinegars, based on the aging period, are marketed: Aceto Balsamico Tradizionale di Modena, which is aged for a minimum of 12 years, and Aceto Balsamico Tradizionale di Modena, Extra Vecchio (Extra Old) which is aged for a minimum of 25 years.
SUGGESTED USES
Try aceto balsamico tradizionale di Modena on fresh, grilled, steamed vegetables, as the last refining touch to meat and fish.åÊ Other options include aged cheese, fresh berries and ice cream.
Discounts do not apply to this product.